4 Telugu Pre-Wedding Rituals You Must Know About
| DilKeRishte
---
---
---
India is famous for its colorful weddings- full of traditions, customs, rituals, relatives, great food, beverages, and get-together. However, in our country as the geographical location changes, the wedding traditions vary resulting in slight variations in the rituals, processes, dressing styles of the bride and groom, jewelry style, great food items, beverages, and customs. So, a person of north India might not know about the rituals of a 'Telugu Wedding' he is about to attend. Most of the marriages in Andhra Pradesh are conducted through Telugu wedding rituals.
To make your Telugu wedding experience once in a lifetime, we are providing you a glimpse of all the sacred Telugu pre-wedding rituals. This will enhance your understanding of Telugu rituals & customs in order to enjoy the wedding to its fullest.
1. Nischitartham/Engagement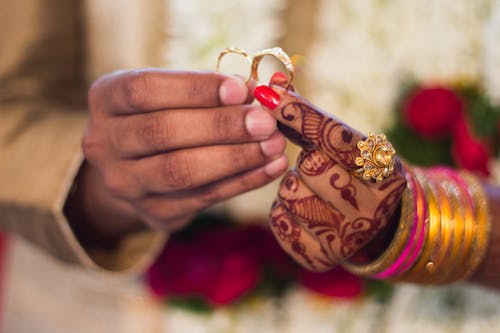 Nischitartham is a formal engagement ceremony in Telugu weddings in which it is officially declared that the bride & groom are going to be married. In this ceremony, the 'Horoscope' of both the bride and groom are referred/matched to find out an auspicious date & time also known as 'Muhurat'. In this ceremony, the Bride's future mother-in-law gifts her presents including clothes, silverware & gold, etc. After this, the ceremony officially ends.
2. Pellikuthuru Pelli Kodukuni Cheyuta
What could be more exciting than watching all the relatives & friends presence at one place for this ritual? In 'Pellikuthuru Pelli Kodukuni Cheyuta' all the relatives are gathered at one place and a 'Nalugu' is prepared which is a mixture of turmeric powder, flours, and oils. Then the bride and groom are smeared in 'Nalugu' by the close relatives & friends making this a fun ritual. After this, all the close relatives of the bride & groom are presented with new clothes as a sweet gesture to express the love & respect for them. After this, all the relatives bestow their blessings on the couple for their bright future and happy married life together.
3. Snatakam
In earlier times, Brahmin boys were made to wear sacred threads or traditional threads. This is the same ritual as the one performed in north India known as "Yagyopavita or Janeu". Only the groom participates in this ritual and pretends as he is sent to learn scriptures (here, the groom takes a small walk in the nearby location & returns back to the place of ritual). As the groom comes back to the same location of ritual to perform 'Snatakam' which signifies that the groom's education is completed now and he is ready to start a new phase in life. This ritual signifies that the groom is ready to get married and able to take all other responsibilities. In the presence of all the relatives and a priest, the ritual is completed. It is a fun ritual watching the groom to take a small walking trip assuming he is going abroad for studies wearing a dhoti, traditional footwear & umbrella (in some cases). It is an amazing experience watching the scene where the groom pretends to his departure and comes back home after completing his studies being welcomed by his other family members.
4. Kasi Yatra
After Snatakam, it is the groom's wish whether he wants to marry or want to go to Kashi to become a 'Sanyasi'. Here the groom pretends to go to Kashi leaving all the worldly pleasures behind and will spend a life of a 'Sanyasi'. Here, the bride's sisters, brothers, cousins try to stop him from leaving and convince him to take his responsibility leading a happy family life. This is the most fun part where a lot of teasing takes place between the groom and siblings of the bride until the groom agrees to discard the idea of going to Kashi and becoming a Sanyasi.
Tradition Telugu wedding has various rituals among which pre-wedding rituals are explained above & for knowing more about Telugu Wedding Rituals stay updated with DilKeRishte. Please do share our post if you like it.