Dilkerishte Video Profiles Matrimony Has Now Been Officially Launched - Press Conference Hyderabad
| DilKeRishte
---
---
---
24th April 2019, Hyderabad - Dilkerishte Matrimony Official Launch Press Conference in Hyderabad, India
Dilkerishte.com is World's First Matrimony Site With Video Profiles and we are delighted to announce that we have officially launched our website on 24th April 2019 in Hyderabad
The event was held at Mercure Hotel Hyderabad KCP where journalists had a conversational session with Mr. Suresh Nair (Owner of Dilkerishte.com)
As a launch, we are offering 3 months of free premium membership.
So, what are you waiting for? Register now on our website and avail the benefits.
We are thankful to all those who were part of the launch party and took part in a healthy conversation.
If you are looking for a life partner for marriage or someone in your friends/family is searching for a prospect bride/groom then don't forget to share with them about DilKeRishte!
Media PR Coverage:
The New Indian Express
---------------------------------------------------------------------------------------------------------------------
The Hans India Hyderabad
---------------------------------------------------------------------------------------------------------------------
Velugu Newspaper
---------------------------------------------------------------------------------------------------------------------
Hindi Milap
---------------------------------------------------------------------------------------------------------------------
Sakshi
---------------------------------------------------------------------------------------------------------------------
Siasat
---------------------------------------------------------------------------------------------------------------------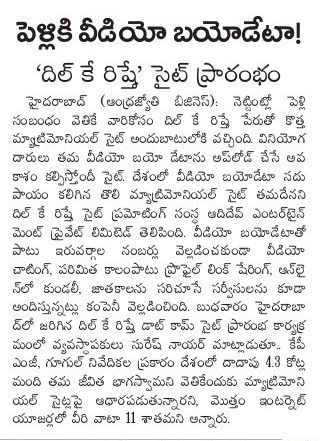 Andhra Jyothi
---------------------------------------------------------------------------------------------------------------------
The Hindu
---------------------------------------------------------------------------------------------------------------------
The Hans India
---------------------------------------------------------------------------------------------------------------------
Janam Sakshi
---------------------------------------------------------------------------------------------------------------------
Nava Telangana
---------------------------------------------------------------------------------------------------------------------
Manam Hyderabad
---------------------------------------------------------------------------------------------------------------------
Here's a glimpse of some of the pictures at the conference hall